Specify your design and colors.
Towel prices begin at $9.00 each - Size 11 X 18
Larger hand towel size 16 X 24 begin at $13.00 each
A. Design or Monogram (see towels) (See Other Designs)
B. Title (Ex. Bishop, Pastor, Evangelist, Reverend, Minister of Music, Mother) the title is usually placed at the top of whichever design you choose
TOWEL COLORS
Yellow, Athletic Gold, White, Black, Cream, Lt. Gray, Burgundy, Kelly Green, Winter Green, Purple, Royal Blue, Navy, Red, Lt. Pink and Lt. Blue
(Please check the availability of your color preference before ordering)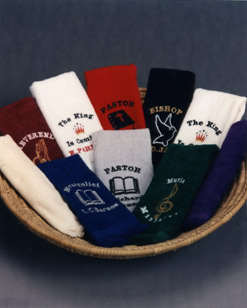 Thread Colors: Any variety you choose is usually available, even Metallic Gold and Silver
Additional services that can be included with your order are as follows:


Additional wording or names are .20 cent per letter
(additional wording usually includes a person's name, Ex. T. Simpson or Thomas Simpson)
Trim designs are $2.00 each additional
(trims are usually decorative wide ribbon trim to compliment color combinations on a towel)
To print out a order form for your Ministers Towel(s) and
FAX your order TO: (734) 483-9890. We will send you a email confirmation and link to pay for your order securely.
See Other Designs